Fables
Once upon a time there was a rich world of fairy/folk/fantasy/tall/–tales to be drawn from. So a couple of writers did it. The result is a community of your favorite storybook characters,with mythic powers intact, living in a corner of New York City in the early 21st century. Sound interesting? I think so. The Fables comic series is the brainchild of Bill Wilingham, and I'm a long time fan. It began in 2002 and I probably picked up my first copy int 2006. I've since become an addict, collecting every volume available in the continuity and still anxiously awaiting the next release. This series features nostalgic names cast in interesting, and sometimes unsettling light.
For example, the Big Bad Wolf is the sheriff of the town. Snow White is the Mayor, Sleeping Beauty owns a shoe store, and Cinderella is an espionage agent. All three of them are Prince Charming's ex wives. Turns out he slept with Snow White's sister, Rose Red, and broke up the first marriage, developing a taste for infidelity that condemned any further attempts at matrimony. Then there's the Orwellian revolution that occurs on the fairytale animal farm. Pigs do, in fact, take over. Oh yeah, and Goldilox is into bestiality.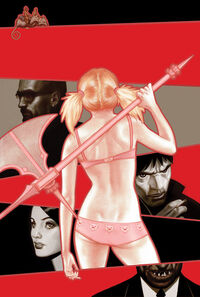 Try to get the image out of your head. It's too late, that sucker is burned in. Sorry, I just ruined a perfectly innocent childhood memory for you.
Moving on, the Cover art to this series is what really attracted me. As you can see the detail is amazing. Above you have the Animal farm, Goldilocks wielding an ax on the right and Rose Red is there cuddling a menacing looking Shere Khan the far left.
That's the big bad wolf in human and animal form standing next to Snow White and one of the flying monkeys from Oz –The land over the rainbow, not the prison.– With name recognition like this it eliminates the need for a lot of the exposition concerning character development. That allows the writer to take his time to slowly develop who the characters are within their situations rather than having an abundance of dialogue cluttering up the artwork. Thumbs up says I.
This volume isn't something your children should read though. It's got more than its fair share of gorey violence, innuendo, profanity, but only the occasional nudity. Speaking as a fan of all of those things, I can't really recommend it for anyone under the age of 7. Eight and up, full speed ahead.
If you get a moment to indulge your eyeballs I highly suggest you check out Fables.
[amazon_link id="1563899426" target="_blank" container="" container_class="" ]Fables Vol. 1[/amazon_link]